Conține 1 fișier: doc
Pagini : 35 în total
Cuvinte : 12781
Mărime: 50.10KB (arhivat)
Cost: Gratis
Profesor îndrumător / Prezentat Profesorului: Robert Northoff
Extras din document
Part 1: Penal law as a legal borderline
A look at the Criminal law
Law is the "ethical minimum" said the German legal philosopher Jellinek. And indeed, in a constitutional area law-abiding behaviour is the minimum you can expect from an European welfare-oriented entrepreneur. With criminal behaviour you can't hide yourself behind your company. Under German law an entrepreneur can act improperly and be liable to pay a civil or administrative fine (for instance with competitive arrangements), but he can just be liable for prosecution as an individual. Third party insurance won't help against a criminal conviction.
The substantive Criminal law is regulated first of all in the criminal code called Strafgesetzbuch (StGB), the procedural law in the code of criminal procedure called Strafprozessordnung (StPO). Furthermore there are numerous main- and supplementary laws which also contain penal provisions. Corporate law, especially, often contains special penal provisions at the end of the legal codes. The imposition of penal sanctions always requires for each delinquency and each offence performance of the elements of the offence: acting with intent or negligence, unlawfulness (no grounds of justification) and guilt. In special circumstances proof must be presented that laws of the German nation apply, that there is a demand for a penalty, that there is a time limitation, and so on.
Business formation
At the beginning of entrepreneurial activity it is necessary to pay attention to required licences or permits, because conducting a transaction without required licenses could lead to an administrative offence or in some cases also to an offence under the criminal code (compare §§ 284, 326 – 330 StGB), especially when other individuals were jeopardized.
Business management
For most entrepreneurs the offences regarding bodily harm are not important. More important is the so-called white-collar-criminality. Just occasionally it can be necessary to consider offences like molestation (Nötigung, § 240 StGB) or menace (§ 241 StGB). Whoever threatens a person without a legal reason by violence/force or a vulnerable evil to an action, sufferance or omission, is punishable by law if the use of violence/force or threat of evil is reprehensible. So, harsh words in business are sometimes not easy to evaluate, but often may not have legal consequences. When a person menaces another person with the intention to prejudice the property of the other person to make himself or a third person rich comes a blackmail/extortion (Erpressung) into consideration. For some businesses larceny (Diebstahl, §§ 242 – 248c StGB) is a big problem. Larceny is the punishable act of a person who takes away a foreign movable good to appropriate unlawfully as his own or a third person without having a legal reason. Fencing comes into consideration when dealing with stolen goods, or buying or selling stolen goods. Inside the businesses it can come to misappropriation (Unterschlagungen). Misappropriation (§ 246 StGB) is similar to theft, but it is enough when a person appropriates a foreign moving good which is already her possession. An offence with a higher penalty is embezzlement (Untreue, § 266 StGB). The offence is complete when the holder uses the property of the owner for any purpose other than that intended or misuse the capacity to dispose of one's property. This offence can be important to business managers, authorized signatories or contributors of capital.
The most important offence in businesses is fraud (Betrug) in all its variants (§§ 263 – 265 b StGB). Typically fraud or false pretences describes the acquisition of property of another through fraudulent representation. Through this fraudulent representation the other business partner commits an error through which he authorizes payment or delivery of goods that causes damages to his business. Variants of fraud are computer fraud (Computerbetrug; through interfering with the data or programs), subsidy fraud (Subventionsbetrug; for wrong information's in getting subventions), investment fraud (especially in sales with commercial papers) or obtaining by false pretences (deceit about economic proportions). If there is a use of a fabricated document for fraudulent representations it represents a forgery of a document (Urkundenfälschung, § 267 StGB). More similar offences are modification of data (Datenveränderung, § 303 a StGB) or computer sabotage (Computersabotage, § 303 StGB).
Punishable self interest is regulated first of all in the §§ 284 – 297 StGB. In this area belong offences like unlawful recovery of pledged goods (Pfandkehr) and the unauthorized use of pledged goods (unbefugter Gebrauch von Pfandsachen), usury (Wucher) and poaching (Wilderei). Offences against competition are regulated in the §§ 298 – 302 StGB. After these paragraphs are punishable anticompetitive agreements for invitations to bid and corruption (Bestechung) and corruptibility (Bestechlichkeit). Because of these offences you should forsake promotional gifts and also should pay attention to appropriateness of an entertainment. Ethical gray areas are where pharmaceutical companies invited pharmacists and medical doctors to Miami to promote their medications
Preview document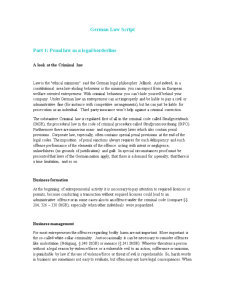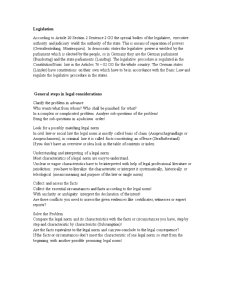 Conținut arhivă zip
Alții au mai descărcat și
Ai nevoie de altceva?