Conține 1 fișier: doc
Pagini : 36 în total
Cuvinte : 9696
Mărime: 49.21KB (arhivat)
Cost: Gratis
anul 1
Extras din document
The Noun
Noun classes:
(1)countable nouns= they denote individual countable entities (bottle, chair, forest, idea).
(2)uncountable nouns=they denote undifferentiated mass or continuum (bread, grass, music, furniture, gold, money).
The language makes it possible to look upon some objects from the point of view of both countable and uncountable:
Would you like a cake? (countable)-No, I don't like cake. (uncountable)
She was a beauty. (countable)-She had great beauty. (uncountable)
She had many difficulties. (countable)-She had much difficulty. (uncountable)
Uncountable nouns can be reclassified as a countable noun involving a change of meaning:
1. A: What cheeses have you got today? (types of cheese)
B: Well, we have Chedar, Gorgonzola, and Danish Blue.
2. -a noun like "coffee" which is normally uncountable (Do you want tea or coffee?) can be considered a countable noun:
Can I have a coffee, please? (a cup of coffee)
This is a nice coffee. (type, kind, brand of coffee)
I like Brazilian coffees best. (type, kind, brand of coffee)
Partition in respect of quantity:
-both uncountable and countable nouns can be used with constructions denoting a part of a whole (a piece of/kind of/type of). The most used partitive expression is "a piece of": a piece of paper/chalk/advice/information/news. In addition to the general partitives (a piece of/ a bit of/ an item of) there are some restricted typical/specific partitives such as the following:
a grain of truth
a bar of chocolate/soap/gold
a loaf of bread
a bunch of flowers/keys
a speck of dust/dirt
a herd of cattle
a sheet of paper/ice
-some uncountable nouns have countable equivalents as given below:
uncountable nouns countable equivalents
This is important information. a piece of/bit of information
The news is bad today. a piece/item of news
Your advice is reliable. a piece of/word of advice
The furniture is expensive. a piece of/article of furniture
-some English uncountable nouns correspond to count nouns in some other languages:
English uncountable nouns=homework, courage, equipment, research, resistance.
Number
-we distinguish three main number classes of nouns:
1.singular invariable nouns: nouns used only in the singular (music, gold, the unreal, Henry)
2. plural invariable nouns: nouns used only in the plural (people, scissors)
3. nouns used with either singular or plural number (dog, dogs)
There are two subclasses:
4. regular: nouns with plural predictable from the singular (dog=>dogs)
5. irregular: the plural form of the noun is not predictable(foot=>feet, criterion=>criteria)
1. VARIABLE NOUNS:
-note the special case of the collective nouns: committee, family, team, army
When used in the singular (My family is larger than his), the non-personal collectivity of the group is stressed; when used in the plural (My family are at home), the personal individuality within the group is stressed.
Regular plurals
-the plural suffix is written "-s" after nouns (hat=>hats)
There are however several exceptions to this rule:
a. after nouns ending in "-s",, "-z", "-x", "-ch", "-sh" the plural ending is "-es":
gas=>gases, box=>boxes, bush=>bushes
b. nouns ending in "-o" have plurals in "-os" or "-oes": just "s" in the case of proper nouns, abbreviations.
-radios, pianos, Eskimos
-nouns with plurals only in "-oes": heroes, potatoes, tomatoes, echoes
-nouns that have both"-os" and "-oes" plurals: volcanos/oes, tornados/oes, cargos/oes
c. nouns ending in "-y" preceded by a consonant change the "y" :
sky=>skies ("y" is kept after a vowel: day=>days)
d. the final consonant is doubled in a few nouns: fez=>fezzes, quiz=>quizzes
e. the apostrophe s ('s) is used in: in the 1980's, write two b's
f. beliefs, cliffs, proofs, roofs / knives, leaves, halves, calves, leaves, shelves, thieves / handkerchieves/fs, scarves/fs
Preview document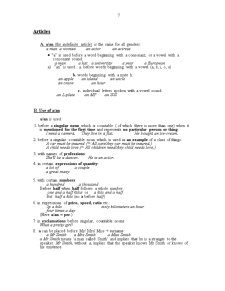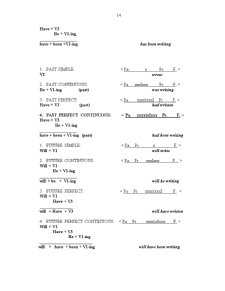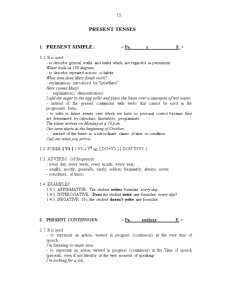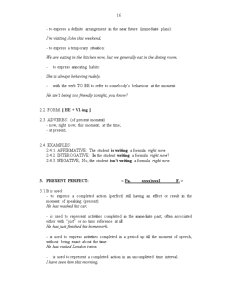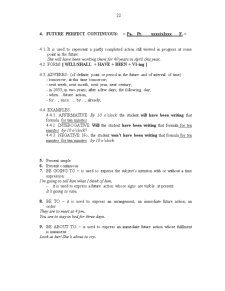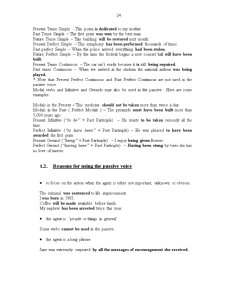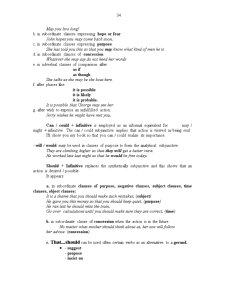 Conținut arhivă zip
Alții au mai descărcat și
Ai nevoie de altceva?