Conține 1 fișier: doc
Pagini : 4 în total
Cuvinte : 540
Mărime: 9.88KB (arhivat)
Cost: Gratis
Extras din document
Teacher:
Date: June, 8th , 2016
Number of students: 29
Class type:
Grade: 11th grade
Frequency: classes/week; 50'/class
Textbook:
Type of lesson: Revision Present Tenses
Skills: Reading, Speaking, Writing
Purpose: The purpose of this lesson is to recycle present tenses
Didactic strategies:
• methods and procedures: information gap, multiple choice, matching, dialogue.
• organization: teacher – students, student – teacher, student-class, student-student.
• materials and equipment: Pupil's Notebook and book; worksheets.
Lesson Aims: to get ready for the lesson, to recognize the tenses and recall the usage of each tense, to use present perfect correctly and put the words in the right order, to choose the correct present tense, to complete the blanks with the correct present tense, to correct the mistakes, to use the present tenses in oral discussions and improve their speaking skills.
PROCEDURE
Warm-up Interaction: T-Ss; S-class Timing: 5'
Skills: Speaking
Aim: getting ready for the lesson
• T greets the Ss, checks if someone is missing.
• T. tells the students to open their notebooks and books.
Preview document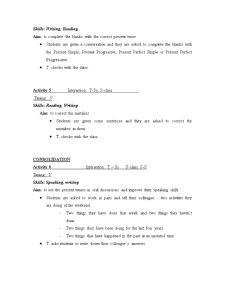 Conținut arhivă zip
Alții au mai descărcat și
Te-ar putea interesa și
Ai nevoie de altceva?