Conține 1 fișier: doc
Pagini : 34 în total
Cuvinte : 18004
Mărime: 58.48KB (arhivat)
Cost: Gratis
Profesor îndrumător / Prezentat Profesorului: Enache Gabriela
curs optional de limba engleza, pentru anul III de studiu, Specializare Romana-Engleza
Extras din curs
There are lots of ways of describing the nature of poetry and accounting for its significance, all of them theoretical constructs designed to demonstrate by argument that they are right, while others are wrong. However, they are ultimately based on individual attitude, subjective dispositions that persuade the others to accept them as having more general validity. Therefore, it seems only appropriate to tackle the issue in a personal key.
We will start from a place usually regarded as one where man finds his eternal peace, you have surely guessed – a cemetery. Here, the gravestones bear the record of bereavement; all that is left of love and grief is an engraved trace in simple words: died, fell asleep, passed away, called to rest. The conventional euphemisms are attempts to disguise this awful final deprivation. It is not very impressive poetry by any aesthetic standards. It is mere verbal carrying. It can be easily dismissed as doggerel. And yet, these faltering attempts at giving shape to sorrow reveal a good deal about the essential nature of poetic art.
His memory is as dear today
As in the hour he passed away.
(Ernest C. Draper 'Ern'. Died )
There is a link death cannot sever,
Love and remembrance live for ever.
(Jonn Reed. Died )
Certainly, all these cannot be true. Love and remembrance do not live for ever, they fade in the minds of the living until they die in their turn. Then why do we record such falsehood in stone? Perhaps because at the time they were not felt as falsehoods, but as true to some sense of reality which is not accountable to conventional conditions of truth. They represent expressions of conviction at a different level of awareness. On the other hand, the fact that I (or anybody in the cemetery) can read these lines means that in a sense the love and remembrance which prompted the composition do live for as long as the gravestone remains. The very recording of the falsehood ensures its survival as a kind of truth situated in a different dimension, not subject to conventional concepts of time. One point about poetry is that it outlives and transcends the occasion of its composition, and transfers its significance to strangers in another time and place.
Day by day we all do miss her.
Words would fail our loss to tell.
But in heaven we hope to meet her,
Evermore with her to dwell.
(Daisy Hiller. Died )
Here is one answer to the problem of truth and permanence: the plane of religious reality. Heaven is by definition an absolute that exists for ever. Poetry as an attempt to capture what is fleeting coexists with different institutionalized formulations of other worlds. The text on the gravestone carries the sound of church singing, and this too is part of its meaning. As with all poems, this one vibrates with intertextual implication, for all poetry is a kind of reverberation of endless echoes. There is, in this verse, a certain alignment with orthodox religion. But this co-occurs with unorthodox resoning, e.g.:
Words would fail our loss to tell.
This is a contradiction: the words do tell the loss. The logical implication of the line is denied in its very expression. Words would fail, so we will not use them; but we do use them, and so, they do not actually fail. This paradox cannot be rationally resolved. Again, this seems to be a feature of poetry in general: it cannot be interpreted by a direct application of conventional logic. In these lines, the expression of religious conformity coexists with a contrary expression of rational non-conformity. There is a similar disparity between the regularity of the sound patterns of the poem, its rhythm and rhyme, and the irregularity of its grammar. Words would fail our loss to tell, instead of the usual word order: Words would fail to tell our loss. This seems to suggest that in order to express an awareness of experience which is out of the ordinary, we need to mould ordinary language into a different shape. We need to disrupt conventional patterns of thought and expression and reformulate them into patterns observing different principles of order.
Thus, we can discern in these simple epitaphs features that are common to all poetry: the fashioning of thought and language to capture the elusive sense of reality in a different dimension, the paradoxical expression of what cannot be expressed, the verbal echoing. To be sure, these epitaphs lack the artistry of poems canonized as works of literature. Only the stone they are carved in gives them permanence. None would survive in print. And yet, they are humble kin to the sonnets of Shakespeare and the odes of Keats.
It is important that this kinship should be recognized. The need to give poetic form to feelings which cannot be adequately contained within conventional utterance is everywhere apparent in our daily life. We see it in clumsy compositions of epitaphs and obituaries, in greeting cards and valentines, in popular songs, etc. Unfortunately, this poetic instinct is suppressed in our schooling by a discontinuity between these rhymes and simle verses and the canonized work of established poetry. Children are confronted with a literature which is culturally distanced from them, remote and sanctified, one which they cannot relate to, by reference to their own experience. No wonder that they regard it as classroom drudgery and reject it. How many people read poetry willingly and for pleasure? The fact that they are so few is evidence of a massive educational failure.
Preview document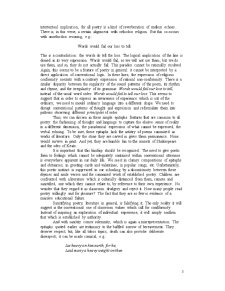 Conținut arhivă zip
Limba Engleza Contemporana.doc
Alții au mai descărcat și
Te-ar putea interesa și
Ai nevoie de altceva?