Conține 1 fișier: doc
Pagini : 12 în total
Cuvinte : 3314
Mărime: 14.42KB (arhivat)
Cost: Gratis
curs pentru engleza pentru afaceri
Extras din document
SECTION A. INTRODUCTION
1. Match the verbs in the left column with their corresponding synonyms in the right column:
to deal with to explain
to be after to demand
to plead for to expect
to carry on to treat
to provide for to want
to ask for to continue
to account for to request
to wait for to supply
2. The secretary of a company is telling her friend about what happened in her office some days ago. Replace the underlined verbal phrases in the text with their corresponding synonyms from the list given here: endure, renounce, stop working, install, discover, exceed, start, arrive, cause.
On Monday the fax machine in my office broke down. At first I opened it up and got down to fixing it but after one hour I found out that it was too difficult and gave up trying. I wanted to fit up the dispatched parts of the machine but of course I couldn't and that's when I realized that this mending job went beyond my competence. Then I decided to report the situation to my boss, who said that he wouldn't put up with such inconvenience which could bring about serious delays in our activity. So, we called up the repairman who turned up immediately and easily solved the problem.
SECTION B. STUDY
The underlined constructions in Section A 2. are called phrasal verbs. This is a special group of verbs which consist of two or three words. They may take several forms:
- a verb followed by an adverb:
Our company has worked very hard to speed up delivery.
After finishing his speech, the CEO sat down.
All subscribers to our program must fill in this form in duplicate.
- a verb followed by a preposition:
Our industrial suppliers promised that they would fit us with the missing machine parts in a very short while.
Searching through my old files, I came across the agreement he had mentioned.
If we want to go to that conference abroad, we will have to pay for the services of a translator.
- a verb followed by an adverb and a preposition:
We look forward to meeting your sales representative at the trade fair.
It was difficult for him to get this job because he ran up against strong competitors.
If we invest in maintenance we'll be able to cut back on the excessive costs involved in buying new equipment too often.
By combining a verb and an adverb or preposition in this manner, we can extend the usual meaning of the verb (to fall down has the same meaning as to fall, only emphasized) or create a new meaning, different from the one that the verb has on its own (to call = to make an appeal but to call off = to cancel, to abandon).
Some phrasal verbs keep the individual meanings of their parts:
My secretary has brought back the report. Would you like to see it?
Other phrasal verbs have a different meaning from the individual parts:
He made up a story to explain his delay in sending the goods
Preview document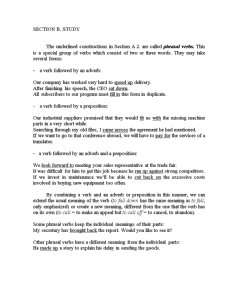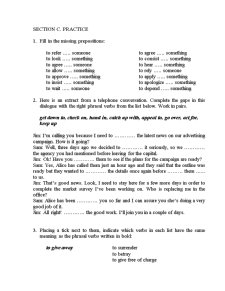 Conținut arhivă zip
Alții au mai descărcat și
Te-ar putea interesa și
Ai nevoie de altceva?