Conține 1 fișier: docx
Pagini : 3 în total
Cuvinte : 1612
Mărime: 17.18KB (arhivat)
Cost: Gratis
Extras din curs
Consonants
/b/ /p/ pet - bet; cap - cab; patch - batch; robe - rope; simple - symbol;
She was well robed. She was well roped.
She was the Bride of Lammermoor. She was the pride of Lammermoor.
It was in her lap. It was in her lab.
It's so rapid. It's so rabid.
/d/ /t/ time - dime; tart - dart; trip - drip; tin - din; petal - pedal; matter - madder;
Sutton - sudden; latter - ladder; rote - road; brute - brood;
Time magazine; Dime magazine.
That's true. That's Drew.
What a lot of petals! What a lot of pedals!
/k/ /g/ come - gum; coal - goal; clad - glad; lack - lag; lock - log; bicker - bigger; decree - degree; ankle - angle.
/v/ /f/ feel - veal; few - view; referent - reverent; proof - prove; leaf - leave; belief - believe.
/v/ /θ/ free - three; Fred - thread; fret - threat; fought - thought; reef - wreath; half - hearth.
/v/ /w/ veal - wheel; verse - worse; vain - Wayne; vine - wine; via - wire; veil - wail.
/θ/ /t/ /s/ thin - tin - sin; thank - tank - sank; theme - teem - seem; thaw - taw - saw; thought - taught - sought; faith - fate - face.
A thorough method; a thirsty thrust; thinks worth thinking about. It took many months of methodical and lengthy research. In theory, both methods should work. Throw it at greater depth. Good health is above wealth.
/ð/ /d/ /z/ seethe - seed - seize; teethe - teed - tease; breathing - breeding - breezing; bathe - bade - baize.
Those rhythms; father and mother; My brothers did that themselves. This leather is as smooth as a feather. They gathered together in front of the ladder. Birds of one feather flock together. He was breathing smoothly, although the weather was bad.
/s/ /ʃ / sip - ship; sort - short; sour - shower; soot - shoot; ass - ash; plussed - plushed.
/s/ /z/ sink - zink; seal - zeal; sip - zip; face - phase; peace - peas; place - plays.
/ʃ/ /ʒ/ dilution - delusion; glacier - glazier; Confucian - confusion; Aleutian - allusion; pressure - pleasure;
she should have mentioned that in front of the bishop. It's a sure sign of shock. Shall I wash my new shawl, or just brush it? He bought her shoes at a new shoe-shop in Marshall Street.
a vision of confusion; the usual measure; Leisure and pleasure usually go together. Marshal Zhukov had several divisions camouflaged in the forest. Lack of vision leads either to confusion or to collision.
Preview document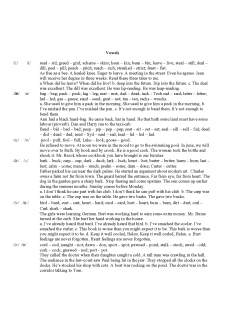 Conținut arhivă zip
Alții au mai descărcat și
Te-ar putea interesa și
Ai nevoie de altceva?