Conține 3 fișiere: doc
Pagini : 20 în total
Cuvinte : 6655
Mărime: 450.53KB (arhivat)
Cost: Gratis
Cuprins
1. INTERPERSONAL DIMENSION
2. PRODUCT DIMENSION
3. LANGUAGE COMPETENCE
4. SOCIOLINGUISTIC DIMENSION
5. TEXT DIMENSION
6. INFORMATION MINING COMPETENCE
7. THEMATIC COMPETENCE
8. TECHNOLOGICAL COMPETENCE (MASTERY OF TOOLS)
Extras din document
TRANSLATOR'S TRAINING AND COMPETENCE
(EMT FRAMEWORK)
1. INTERPERSONAL DIMENSION
The interpersonal dimension encompasses more than social survival skills. The translator profession is based on building and maintaining relationships with clients, monolingual experts in different fields of activity and peers. This dimension does not only enhance personal and professional growth, but it is also connected to quality assurance in translation as meeting both internal (the translator gains viable insights in the process of translation) and external requirements (mostly related to translation as product to be delivered on the market). Translator training programmes do not take place in a social vacuum; instead they are demand-oriented, they create opportunities as ways forward, releasing potential and optimising performance. The translator should be able to adopt hybrid positionings through proactive social and professional behaviour: Furthermore, there is need for the translator to be able to set realistic objectives and timelines as well as to be able to marshall resources with a view to achieving the established goals.
The focus lies on the contemporary status of the translator. S/he has become more visible, has lost his/her innocence being affiliated with a particular ideology and being allowed to interpret the original text and take charge of translation-related problems since granted intellectual property. The translator is a social agent - a mediator in the context of global communication.
Trainees will develop theoretical knowledge and practical skills related to the translator's meeting the market requirements: the translator cannot be operative if s/he has not developed sensitivity to the translation market profile. The translator necessarily develops from instinct-driven action as a state of unfocused readiness to experience-driven action and, eventually, to routinisation or habitus.
The translator has to develop entrepeneurial skills since translation is a service to be provided to the others. Therefore, the translator, be him/her an in-house translator or a freelance one, should be an exploratory spirit and have a vision to communicate to the commissioners of translation in order to motivate them to help him/her accomplish this vision.
It is a question of the translator's active engagement in raising the status of the profession. A professional translator will understand that the world and the business environment in which they operate are constantly changing. While they must focus on the end-game, translators should be versatile and adapt their strategies and offerings to meet changing market conditions. It should be understood that deadlines, tariffs, necessary logistics, etc vary according to the complexity and volume of the material to be translated.The "hands-on" approach (the practice/placement periods) clearly gives the trainees the opportunity to meet clients and take part in negotiation sessions in order to better understand what localisation implies.
Translation is, eventually, a product or a commodity that must meet the receivers' / clients' requirements, including compliance with the agency policy (most translations are in-house ones), deadline observance, accommodation to particular needs and interests, globally equated to the loyalty factor. From the client's perspective, quality is equated to fitness for purpose.
Translator professionalisation is a lifelong process, implying awareness of newly-emerged professional needs and interests and commitment to high standards of quality. The translator should develop managerial skills with respect to project management, time frames, work under pressure, capitalisation of expertise, etc.
The translator should be aware of the translation market demand and of the (average) price of different translation products, whose successful delivery implies the use of both human and technical resources (it is important to see if there is need for the development of tools required by that particular task or if it is a question of reusability of available tools). In this respect, the trainees of the Legal translation and terminology programme have access to such information via Notary Public Offices or other employers, by virtue of the partnership between them and our institution. Furthermore, the Faculty of Letters organises annnual conferences including Translation Studies sections or wholly dedicated to specialised translation where round tables with professional translators are part of the programme.
Preview document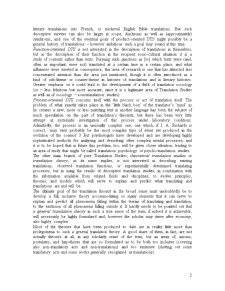 Conținut arhivă zip
Translator's Training and Competence

Reference material.doc
Textual typology.doc
Translator competence.doc
Alții au mai descărcat și
Ai nevoie de altceva?