Conține 1 fișier: doc
Pagini : 64 în total
Cuvinte : 14815
Mărime: 685.95KB (arhivat)
Cost: 6 puncte
Profesor îndrumător / Prezentat Profesorului: Florin Dan
este o lucrare de licenta prezentata in cadrul facultatii de Chimie si Inginerie Chimica , Universitatea Babes Bolyai, Cluj Napoca
Cuprins
CONTENT
1. INTRODUCTION – SWEETENERS- 4
1.1 NATURAL SWEETENERS- 4
1.1.1 Sucrose- 4
1.1.2 Sugar cane- 6
1.1.3 Sugar beet- 10
1.1.4 Molasses- 12
1.2 ARTIFICIAL SWETENERS- 13
1.2.1 Aspartame- 13
1.3 SYNTHESIS SWEETENERS- 16
1.3.1 Saccharin- 16
1.3.2 Cyclamate- 18
2. STARCH- 20
2.1 DEXTROSE EQUIVALENT (DE)- 21
2.2 CORN STARCH MANUFACTURING- 23
2.3 ENZYMES USED FOR STARCH HYDROLISATION- 24
2.4 STARCH CONVERSION- 27
3. HIGH FRUCTOSE CORN SYRUP (HFCS)- 30
3.1 MANUFACTURING PROCESS- 30
3.2 HIGH FRUCTOSE CORN SYRUP CLASSIFICATION- 50
3.2.1 High fructose corn syrup 90 (90% HFCS)- 50
3.2.2 High fructose corn syrup 42 (42% HFCS)- 50
3.2.3 High fructose corn syrup 55 (55% HFCS)- 51
3.3. HFCS CONCENTRATION MEASUREMENT- 52
3.3.1 Glycemic index- 53
3.4. COMPARISON OF HFCS TO OTHER EDULCORANTS- 53
3.4.1 HFCS versus Sucrose- 53
3.4.2 HFCS versus Honey- 54
3.4.3 HFCS versus Cane sugar- 55
3.5 HFCS IN EUROPE AND USA- 56
3.6 HEALTH EFFECTS- 57
3.7 FUTURE OF HFCS- 58
4. CONCLUSIONS- 59
5. REFERENCES- 60
Extras din document
1. INTRODUCTION – SWEETENERS
Carbohydrates are important nutrients which are mostly used to supply energy to the body, also a carbon source for synthesis of other needed chemicals.
They are often classified according to the number of saccharide units they contain1:
- monosaccharides
- disaccharides
- oligosaccharides
- polysaccharides
All carbohydrate sweeteners contain primarily sugars and do not provide significant amounts of vitamins and minerals.
We value sugar and other natural sweeteners because they enhance taste and enjoyment of a wide variety of nutritious foods.
Sweeteners classify in:
- Natural sweeteners
- Artificial sweeteners
- Synthetic sweeteners
1.1 NATURAL SWEETENERS
1.1.1 Sucrose
Fig. 1. The chemical structures of sucrose 4
Sucrose, also called: table sugar or saccharose is a disaccharide formed from glucose and fructose with the molecular formula C12H22O11.
It appears like a white solid, having the density 1.587 g/cm³, and molar mass 342.29648 g/mol. Its systematic name is α-D glucopyranosyl-(1→2)-β-D-fructofuranose. It is best known for its role in human nutrition and is formed by plants
Like other carbohydrates, sucrose has a hydrogen to oxygen ratio of 1:2:1. It consists of two monosaccharides, α-glucose and fructose, joined by a glycosidic bond between carbon atom 1 of the glucose unit and carbon atom 2 of the fructose unit. Unlike most polysaccharides, the glycosidic bond is formed between the reducing ends of both glucose and fructose. Since it contains no free anomeric carbon atom, it is classified as a nonreducing sugar.
Sucrose melts and decomposes at 186 °C to form caramel, and when combusted produces carbon, carbon dioxide, and water. Water breaks down sucrose by hydrolysis, however the process is so gradual that it could sit in solution for years with negligible change.
Reacting sucrose with sulfuric acid dehydrates the sucrose and forms elemental carbon, as demonstrated in the following equation:
C12H22O11 + H2SO4 catalyst → 12 C + 11 H2O
Sucrose is the most common food sweetener in the industrialized world, although it has been replaced in industrial food production by other sweeteners such as fructose syrups or combinations of functional ingredients and high intensity sweeteners 10.
Saccharose is generally extracted from sugar cane or sugar beet and then purified and crystallized. In mammals, sucrose is very readily digested in the stomach into its component sugars, by acidic hydrolysis. This step is performed by a glycoside hydrolase, which catalyzes the hydrolysis of sucrose to the monosaccharides glucose and fructose. Glucose and fructose are rapidly absorbed into the bloodstream in the small intestine. Undigested sucrose passing into the intestine is also broken down by sucrase or isomaltase glycoside hydrolases, which are located in the membrane of the microvilli lining the duodenum. These products are also transferred rapidly into the bloodstream. Sucrose is digested by the enzyme invertase in bacteria and some animals. It is an easily assimilated macronutrient that provides a quick source of energy to the body, provoking a rapid rise in blood glucose upon ingestion.
Sucrose, as a pure carbohydrate, has an energy content of 4 kilocalories per gram or 17 kilojoules per gram.
Solubility of Pure Sucrose
Temperature (°C)- g sucrose /g water
50- 2.59
60- 2.89
70- 3.25
80- 3.69
90- 4.20
Table. 1. The solubility of pure sucrose 4
Sucrose can be obtained from sugar cane and sugar beet by following several mechanical and chemical steps. About 1/3 comes from sugar beet and 2/3 from sugar cane.
1.1.2 Sugar cane
Sugar cane is a genus of tropical grasses which requires strong sunlight and abundant water for satisfactory growth. The Latin names of the species include Saccharum officinarum, S. spontaneum, S. barberi and S. sinense 36. Some varieties grow up to 5 meters tall. In the right climate the cane will grow in 12 months and, when cut, will re-grow in another 12 months provided the roots are undisturbed. A typical sugar content for mature cane would be 10% by weight but the figure depends on the variety and varies from season to season and location to location. The yield of cane from the field varies considerably but a rough and ready overall value to use in estimating sugar production is 100 tons of cane per hectare or 10 tons of sugar per hectare. Sugar beet
Preview document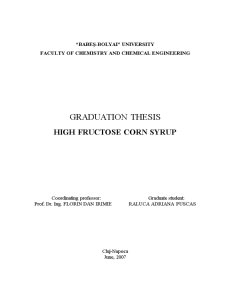 Conținut arhivă zip
High Fructose Corn Syrup.doc
Ai nevoie de altceva?