Conține 1 fișier: doc
Pagini : 27 în total
Cuvinte : 2363
Mărime: 328.52KB (arhivat)
Cost: 5 puncte
Profesor îndrumător / Prezentat Profesorului: Sl. Dr. Ing. Radu PESCARU, Sl. Dr. Ing. Cristina Vladoiu
Gh. Asachi" Technical University of Iasi Faculty of Civil Engineering CIVIL ENGINEERING -Training in English
Extras din document
The project consists in the design of an individual dwelling building with underground, ground and one floor (Ug.+G+1Fl.), placed in urban environment (provided with electricity, pluming and natural gases facilities). From geological surveys results that the underground water level is deeper than maximum foundation depth and the allowable pressure on the foundation ground is: pa=1.8+0.002N  2.5 daN/cm2.
The load bearing structure of the house consists of:
- continuous rigid (strip) foundations of plane or no fine concrete;
- structural load bearing solid walls of brickwork masonry (with concrete cores if necessary);
- floor made monolith or precast reinforced concrete slabs.
The roof will be designed in two hypotheses:
a. as flat (terrace)roof;
b. as pitched roof of timber members and clay tiles or metal sheet covering.
The stairs will be made of reinforced concrete, metal or timber.
For reasons of heat loos economy the external walls will take a supplementary thermal insulating layer.
In the project of design, the following aspects must be solved / cleared up:
- the functional distribution of the rooms (layout);
- the horizontal and vertical connection between the main spaces;
- the thickness of thermal insulation required by comfort and minimum heat loos conditions;
- the estimation of loads in the standard combination and the main structural elements design.
The project consists of two major parts: a- the written part, b- the drown part.
A. The written part contains:
1. a technical report;
2. thermal insulation design;
3. static analysis, preliminary assumptions and design of the roof elements, load bearing walls, foundations and floors.
B. The drown part contains:
1. the functional layout (scale 1/100);
2. ground floor layout (scale 1/50);
3. first floor layout (scale 1/50);
4. underground floor layout (scale 1/50);
5. section through staircase (scale 1/50);
6. basement and foundation layout (scale 1/50);
7. flat roof & pitched roof covering layout (scale 1/100);
8. pitched roof structure layout (scale 1/50);
9. Details (scale 1/5 1/10).
Technical report
The basement has a storage room for storing different things as fruits and vegetables, a game house, a game room and a garage for two cars. It has a total surface of 104.39 m2
The ground floor has spaces for greeting guests, family meetings, study, preparing and serving food :
- living room : 14.13 m2 ;
- family room : 20.34 m2 ;
- office : 10.47 m2 ;
- kitchen : 8.69 m2 ;
- pantry : 4.00 m2 ;
- hall (x2) : 3.37 m2 + 2.92 m2=6.29 m2 ;
- bathroom : 6.10 m2 ;
- w.c. : 2.40 m2 ;
- terrace : 14.11 m2 ;
- porch : 12.91 m2 ;
The first floor has spaces for bathroom, rest and relaxing, night rithm :
- master bedroom : 17.25 m2 ;
- second bedroom : 10.45 m2 ;
- third bedroom : 8.82 m2 ;
- living room : 20.34 m2 ;
- office : 9.90 m2 ;
- dressing room : 3 m2 ;
- bath room : 7.10 m2 ;
- w.c. : 2.40 m2 ;
- hall : 11.59 m2 ;
- terrace : 8,86 m2 ;
The exterior walls are of brick masonry having the thickness 25cm plus 5 10cm thermo insulation.
The interior walls are made of brick masonry of 25 cm thickness.
The floors are made of reinforced concrete slabs, mosaic (stairs, terrace), tile (bathroom kitchen), parquet.
The house is provided with electricity, natural gas, pluming.
The roof is made of wood elements, and a metal sheet envelope.
I. Thermal design of the building envelope elements
The thermal resistance for each element of the building envelope must satisfy the requirement for the thermal resistance:
Preview document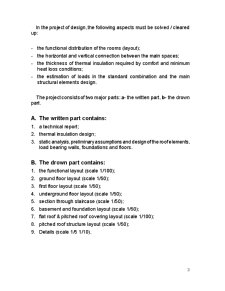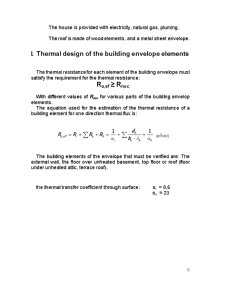 Conținut arhivă zip
Civil Constructions - Individual Dwelling.doc
Alții au mai descărcat și
Ai nevoie de altceva?