Conține 1 fișier: doc
Pagini : 80 în total
Cuvinte : 22565
Mărime: 114.15KB (arhivat)
Cost: 9 puncte
Profesor îndrumător / Prezentat Profesorului: Chetroi Nina
Cuprins
Abstract 2
Glossary 3
ITRODUCTION 5
CHAPTER I- The collocation as a type of multiword unit 8
1.1.1. Idioms 8
1.1.2. Phrasesiological units 9
1.1.3. Compound words 13
1.1.4. Phrases 14
1.2. Defining the collocations 17
1.2.1. Defying the collocations 18
1.2.2. The problem of collocations 21
1.2.3. The use of collocations 23
1.2.4. Types of collocations 26
1.2.5. The importance of collocations 27
CHAPTER II - Structural classification of collocations 29
2.1.1. - Structural classification based on their types 29
2.1.2. Structural classification based on number of elements 30
2.1.3. Structural classification based on parts of speech 34
2.1.4. The translation techniques' analyzation. 37
CONCLUSION 60
Summary 62
Bibliography 63
Appendices 65
Extras din document
Abstract
The main purpose of this research paper is to distinguish the collocation from other word groups' like- phrases, idioms, compound words and phraseological units which make difficulties in learning the collocation as a single word group. In addition, in this research are made some analyses based on five types of collocations; these types of collocations will be analyzed according to: number of elements, parts of speech and translation techniques in order to have a better view of collocations.
Altogether, it is hoped that the result of this research has not only produced a usable on line collocational aid, but also to demonstrate a simple and efficient way of understanding better the collocations.
Introduction
"We scientists are fast learners but we are desperately short of time, we want from you language is advice, tell us what we need to learn "
Jonathan Lipjochn
This research paper deals with:" The problem of collocations in English language".
Although many people consider that to know a language the most important is to learn words, there has recently been an increasing awareness that the way of combining the words is the important key of speaking, writing and understanding a language.
Words are our tools of expressing our ideas, thoughts, feelings, and reactions. Sometimes it is difficult even in our mother language to find words that are precise enough to render our exact message across to others. When we use English we are faced with a language that deals with a lot of word-groups which can be hard distinguished among them and also hard to understand their meaning. It can be said that English is a language full of traps which are easy to fall into, for example word groups like phrases, idioms, phraseological units, compound words and collocations.
Although there is a growing recognition of collocation in language teaching, there seems to be a lack of understanding of its true significance. Linguists and teachers have concentrated their attention on the extreme ends of the spectrum: free combinations and idioms, giving learners the impression that there are two distinct models of construction: the unfettered application of generative rules to lexis in free combinations, on the one hand, and complete frozenness in idioms, on the other.
Although the term collocation is increasingly used by writers in a number of languages – related fields, it has perhaps not yet achieved wide recognition in applied linguistics, nor are the implications of research within the field fully understood or made available to language teachers. This is partly the result of interest in the phenomenon of word combination being developed independently in variety of disciplines, and few linguists have attempted an overview. It is not possible within a scope of a single article to give an account of whole field, and the focus of this paper is restricted to those aspects of the subject that have to define the collocations as a single word unit.
That is why this research paper is based on the problem of collocations in order to define and distinguish it as a single unit from other word groups mentioned above, to analyze its classification structure and translation techniques.
This research paper "The problem of collocation in English language ", consists of two chapters and subchapters. First chapter, "The collocation as a type of multiword unit", is focused on defining the other word groups: idioms, compound words, phraseological units and phrases in order to understand better the collocation and not to have problems in distinguishing it from these word groups because they have a lot of peculiarities which make them to be wrong understood as a single unit. The second sub chapter is based on defying the collocation and distinguishing it, after briefly presentation of the word groups which mix up the understanding of collocation, here is presented largely the collocation as a single unit, its importance and its use in English language. After defying the collocation and its importance in learning a language, follows the second chapter: Structural classification of collocations based on structural classification of collocations. The examples of collocations were taken from Charlotte Bronte novels – Jane Eire-230 examples, and were analyzed according to five types of collocations, adjective +noun, noun+verb, verb + noun, adverb + verb, adverb + adjective. According to these types, there were made the structural analysis based on: number of elements, (for example the collocation can be formed from two, three, four elements); parts of speech, and the last one is based on translations techniques (literal translation, enlargement, reduction, modulation, contextual synonym and word by word translation).
Preview document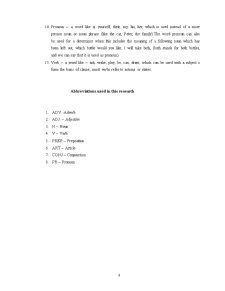 Conținut arhivă zip
Alții au mai descărcat și
Te-ar putea interesa și
Ai nevoie de altceva?