Conține 1 fișier: doc
Pagini : 14 în total
Cuvinte : 2068
Mărime: 21.28KB (arhivat)
Cost: 5 puncte
Cuprins
Chapter one: Contextualization of the study 3
1. Introduction 3
1.1 Background to the study: 3
1.2 Statement of the problem: 3
1.3Purpose of the study: 3
1.4The objectives of the study: 4
1.5 Research questions: 4
1.6 Delimitations of the study: 4
1.7 Assumptions: 5
1.8 Definitions and Terms: 5
1.9 Significance of this study: 6
Chapter two: Literature review 6
Chapter three: Research methodology 7
3.1 Research Design: 7
3.2 Research Methods: 8
3.3 Data Collection Methods: 8
Primary Data Sources: 8
Secondary Data Sources: 8
3.4 Demarcation of the study and units of analysis 8
3.5 Validity and Reliability: 9
Reference list: 10
Questionnaire 12
Extras din document
Chapter one: Contextualization of the study
1. Introduction
1.1 Background to the study:
The misunderstanding of the concept of managing or the lack of study or simply creating a personal idea about what management means and what it implies leads to a series of conflicts between management and staff.
This research investigates the management style of hotel managers by analyzing the hotel employee perceptions of their manager styles and effectiveness. It uses the findings of previous research, such as that by Hinkin and Tracey (1999) and Gilbert and Guerrier (1997) to compare hotel management styles in a changing environment.
1.2 Statement of the problem:
In many hotels in Romania a lot of conflicts occur between staff and management because of the wrong idea each part has about managing and managerial tasks and skills. On one hand, managers have their own idea about managing a hotel based on their studies and experience, on the other hand the staff also has its opinion about managing based on what they heard or on what they assume it's right or wrong or, sometimes, on their experience or level of studies.
1.3Purpose of the study:
The purpose of the study is to highlight the differences between what managers are being taught, what are they actually doing and what is their staff thinking about their work.
1.4The objectives of the study:
Primary objective:
The main objective is to determine the misunderstandings that occur between the management and the staff regarding the way the hotels are ran, and to what extent these misunderstandings exist.
Secondary objectives:
For this study, the following is to be determined:
1. Define management.
2. Management style.
3. The relationship between management style and employee attitude.
4. Hotel management practices.
1.5 Research questions:
1. What is management- What is Management style?
2. What is the perception that the executives of the hotel have regarding their own management?
3. What is the staff perception about management?
1.6 Delimitations of the study:
This study excludes the following:
- Employees that are relatives with the manager.
Preview document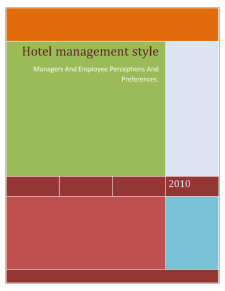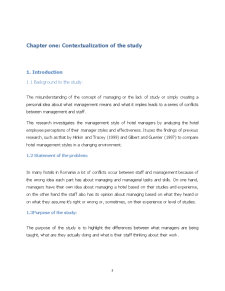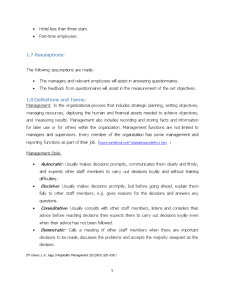 Conținut arhivă zip
Hotel Management Style - Managers and Employee Perceptions and Preferences.doc
Alții au mai descărcat și
Ai nevoie de altceva?