Conține 1 fișier: doc
Pagini : 24 în total
Cuvinte : 5877
Mărime: 26.71KB (arhivat)
Cost: 1 puncte
Profesor îndrumător / Prezentat Profesorului: Maria Dobre
Proiect Licenta
Extras din document
There are several reasons which have determined me to write about teaching
creative writing and its applications in teaching.
First of all, I would like to begin by saying that teaching is what I have wanted to
do since I was a teenager , although at that time I did not know what I wanted to teach. It
was only in the 12th grade that I decided to become a foreign language teacher. Then , in
the 3 rd year of college , I discovered methodology. For me it was fascinating because it
provided me with information I was looking for regarding teaching : how to use and
when to use certain materials, how to organize the classroom , the roles of teacher , how
to correct errors etc .
Methodology taught me a lot of useful things , many of which I tried to apply
during my pedagogical practice. And everything turned out to be even better than I had
expected : although thrilled at the thought of teaching , I was at the same time terrified ,
since I did nit know what to expect , what the reaction of the students would be etc.
The students in the classroom where I taught were 4th graders and I knew that they could
not pay attention more than 15 minutes , especially during a writing class so I tried to
catch their attention using creative writing activities , as I had previously learned in a
methodology lecture. The result was amazing for me : they were all excited and they all
participated actively and they provided interesting writings. It was great.
Why creative writing? Because I wanted to find an appropriate way to make their
activity of writing pleasant and enjoyable and because I consider creative writing useful
in teaching.
Actually this is the topic on which I focused my research in this paper.
The main issues I am concerned with in the present paper are:
- the types of creative writings and how they can be applied in the classroom;
-
- student's perception of teacher who uses creative writings in the classroom;
-
- student's performance in tests using creative writings;
REASONS FOR TEACHING WRITING
The age group I have in mind is that of pupils about 7-10 years old , who have only
recently started elementary school.
Since children at this age are good at learning orally and are still learning to write
in their mother tongue , I need to explain and justify why we should teach them to write
in another language at this stage , apart from just giving them a few routine exercises.
Learning writing shouldn't be seen as a burden for them. There are many good reasons
for teaching writing at this age.
Preview document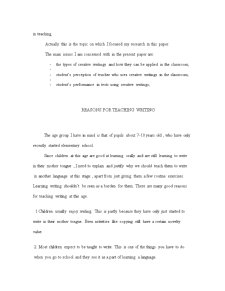 Conținut arhivă zip
Justification of The Paper.doc
Alții au mai descărcat și
Ai nevoie de altceva?