Conține 1 fișier: doc
Pagini : 36 în total
Cuvinte : 5747
Mărime: 22.62KB (arhivat)
Cost: 6 puncte
Profesor îndrumător / Prezentat Profesorului: A. Vintean
Extras din document
Verbal and Nonverbal Communication
The basis of communication is the interaction between people. Verbal communication is one way for people to communicate face-to-face. Some of the key components of verbal communication are sound, words, speaking, and language.
Through speaking we try to eliminate this misunderstanding, but sometimes this is a very hard thing to do. Just as we assume that our messages are clearly received, so we assume that because something is important to us, it is important to others. As time has proven this is not at all true. Many problems can arise is speaking and the only way to solve these problems is through experience.
Speaking can be looked at in two major areas: interpersonal and public speaking. Since the majority of speaking is an interpersonal process, to communicate effectively we must not simply clean up our language, but learn to relate to people.
In interpersonal speaking, etiquette is very important. To be an effective communicator one must speak in a manner that is not offending to the receiver. Etiquette also plays an important role in an area that has developed in most all business settings: hierarchical communication. In business today, hierarchical communication is of utmost importance to all members involved.
The other major area of speaking is public speaking. From the origin of time, it has been obvious that some people are just better public speakers than others. Because of this, today a good speaker can earn a living by speaking to people in a public setting. Some of the major areas of public speaking are speaking to persuade, speaking to inform, and speaking to inspire or motivate.
Nonverbal communication
Nonverbal communication is the single most powerful form of communication. More than voice or even words, nonverbal communication cues you in to what is on another person's mind. The best communicators are sensitive to the power of the emotions and thoughts communicated nonverbally.
Nonverbal communication ranges from facial expression to body language. Gestures, signs, and use of space are also important in nonverbal communication. Multicultural differences in body language, facial expression, use of space, and especially, gestures, are enormous and enormously open to misinterpretation.
Definition "nonverbal communication involves those nonverbal stimuli in a communication setting that are generated by both the source [speaker] and his or her use of the environment and that have potential message value for the source or receiver [listener]. Basically it is sending and receiving messages in a variety of ways without the use of verbal codes (words). It is both intentional and unintentional.
Preview document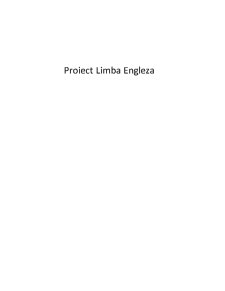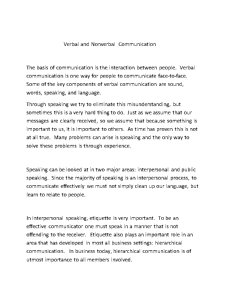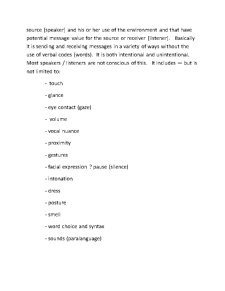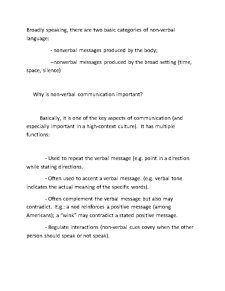 Conținut arhivă zip
Alții au mai descărcat și
Ai nevoie de altceva?