Conține 1 fișier: doc
Pagini : 16 în total
Cuvinte : 8966
Mărime: 48.80KB (arhivat)
Cost: 5 puncte
Extras din document
This essay examines the fiction novel of Oscar Wilde`s "The Picture of Dorian Gray" in the context of Gothic fiction, aesthetics and the novel`s significance to late capitalistic societies. It examines the Gothic elements of the story, the characters" preoccupation with aesthetics, the contrast therein, and the books significance as social commentary to late capitalist culture, where beauty and youth are obsessively craved and sought after.
The Picture of Dorian Gray (herein after The Picture), with its controversial themes of hedonism, duplicity and worship of youth and beauty. While the decadence and homo-eroticism that shocked his contemporaries upon its original publication would hardly raise an eyebrow today, the theme of youth and beauty worship remains extremely relevant in late capitalist societies . Today, both the young and the aging can relate to the book`s protagonist, Dorian Gray, who could not imagine becoming old.
The book is influenced by themes and movements such as what is today known as modernism, as well as Gothicism and aesthetics, to name but a few. My analysis is limited to the Gothic elements of the book, as well as Wilde`s narrative of Walter Pater`s theories of aesthetics. Those two focal points are then further examined with the aspect of the youth and beauty obsession in late capitalist societies. Wilde was influenced by Walter Pater`s notions on aesthetics and the major characters in the book are frequently used as narrators of Wilde`s thoughts on that issue. The Gothic elements that frame the book and its main events, for example Basil`s death and the creation of the magical portrait, serve as a gruesome and dark background to further Wilde"s aesthetic narrative.
In late capitalist societies there is a growing trend of cosmetic surgeries and increased use of beauty products. This focus on being young and beautiful is an obsession in the vein of Dorian Gray"s fear of aging. The modern man and woman spend an increasingly greater amount of money on maintaining the ideal mirrored image of themselves, whether those demands or expectations come from themselves or the society. This reality of late capitalist society is reflected in the main characters want for youth and beauty, and the Gothic framework of the book serves as a contrast to this aesthetic focus.
Today, people are, in some sense a lot more visible within their own social circle as well as others, mainly due to social networking, online dating sites and video uploading sites. In these late capitalist societies, people are no strangers to advertisements and celebrity endorsements, things that in 1910 were only just beginning with actress testimonials on "fashion and beauty products"
Since the late 19th century, a great many things have changed and become more visible, yet the story of Dorian Gray is still one of relevance, as everyone surely knows the lengths people go to, to achieve and maintain beauty. The everlasting youth and beauty that Dorian Gray was granted unawares through supernatural means is now possible to achieve, for some time at least, with beauty therapies and cosmetic surgeries. The message of the story, that everything comes with a price, resonates better with the everyday man or woman. This moral of the story is perhaps a simple one but as Wilde himself wrote:
"All art is at once surface and symbol.
Those who go beneath the surface do so at their peril"
Gothic Elements of The Picture and Their Relation to Aestheticism
Wilde was a famously dedicated believer of the aesthetic writings in Walter Pater`s The Renaissance. The views on aestheticism as presented in Pater`s writings
permeate Wilde`s novel. Pater writes:
Beauty, like all other qualities presented to human experience, is relative ;and the definition of it becomes unmeaning and useless in proportion to its abstractness. To define beauty, not in the most abstract but in the most concrete terms possible, to find, not its universal formula, but the formula which expresses most adequately this or that special manifestation of it, is the aim of the true student of aesthetics.
Pater is correct in his observation, beauty is subjective and to each his own. However, he speaks of a "special manifestation" of beauty or its formula: that there is in fact some standard or perceived ideal that people can strive to achieve. According to Concise Oxford, beauty is a "Combination of qualities, as shape, proportions, colour, in human face or form, or in other objects, that delight the sight". So while beauty is somewhat quantifiable, it is also ultimately subjective and how it appears, is the study of those that ponder aesthetics. How we see beauty and what it can hide is what Wilde is trying to narrate in The Picture.
By looking at that question from the point of view of his characters, Wilde`s novel incorporates a study of Pater`s theories and ponderings of aesthetics. The Picture becomes a rich story of decadence, self destruction, as well as youth and beauty worship, blended in a heady mixture of the mysterious Gothic and twisted aestheticism
Wilde describes many beautiful places, objects and people in the story, but affords them with an eerie quality, normally not evident in aesthetics portrayal. John Paul Riquelme maintains that by twisting the portrayal of the Gothic elements and the aesthetic is how "Wilde simultaneously aestheticizes the Gothic and gothicizes the aesthetic" as well developing a narrative that incorporates his view of the aesthetic writings of Walter Pater.
The definition of Gothic literature can be hard to pinpoint, due to what Jerrold Hogle refers to as an "uneasy conflation of genres, styles, and conflicted cultural concerns"
However, Hogle concedes that there are some "general parameters by which fictions can be identified as primarily or substantially Gothic".
Preview document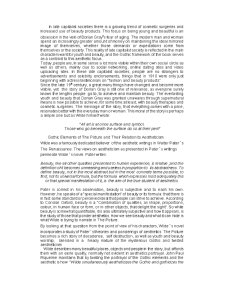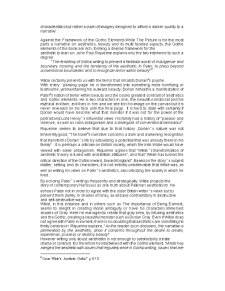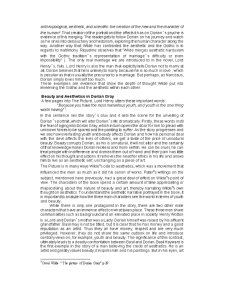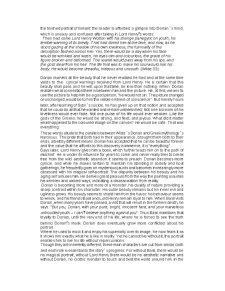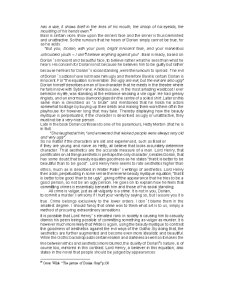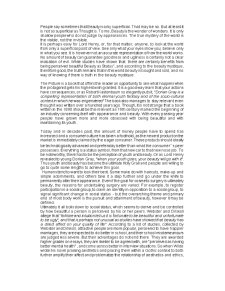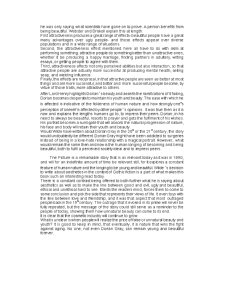 Conținut arhivă zip
The Picture of Dorian Grey.doc
Alții au mai descărcat și
Te-ar putea interesa și
Ai nevoie de altceva?