Conține 1 fișier: docx
Pagini : 28 în total
Cuvinte : 5794
Mărime: 870.37KB (arhivat)
Cost: 5 puncte
University of Agricultural Sciences and Veterinary Medicine "Ion Ionescu de la Brad"- Iaşi
Cuprins
Lists of figures. 4
INTTRODUCTION. 5
CHAPTER I. CANDY. 7
1.1 Definition and clasification. 7
1.1.1 Caramelaj products. 8
1.1.2 Jellies. 8
1.2 History of candy. 9
1.3 Production. 11
1.4 Packaging. 12
1.5 Health effects. 13
1.6 Health benefits. 14
1.7 Candy – a symbol of welfare. 14
CHAPTER II. CAKES. 16
2.1 History of cakes. 16
2.2 "Desert are always present at celebration and festive occasion". 17
2.3 Baklava. 18
2.4 Traditional Bakewell Tart Recipe. 19
2.5 Famous Cakes – Tiramisu history and controversies. 20
2.6 Cake decorating. 21
CHAPTER III. CHOCOLATE. 22
3.1 Etymology. 22
3.2 History of chocolate. 22
3.3 Taype of chocolate. 24
3.3.1 Dark chocolate. 24
3.3.2 Chocolate milk. 24
3.3.3 White chocolate. 25
3.4 Aphrodisiac properties and other benefits. 26
3.5 Obesity and health. 26
BIBLIOGRAPHY. 28
Extras din document
INTRODUCTION
Candy, also called sweets or lollies, is a confection that features sugar as a principal ingredient. The category, called sugar confectionery, encompasses any sweet confection, including chocolate, chewing gum, and sugar candy. Vegetables, fruit, or nuts which have been glazed and coated with sugar are said to be candied.
Physically, candy is characterized by the use of a significant amount of sugar or sugar substitutes. Unlike a cake or loaf of bread that would be shared among many people, candies are usually made in smaller pieces.
However, the definition of candy also depends upon how people treat the food. Unlike sweet pastries served for a dessert course at the end of a meal, candies are normally eaten casually, often with the fingers, as a snack between meals.
Each culture has its own ideas of what constitutes candy rather than dessert. The same food may be a candy in one culture and a dessert in another.
Cake is a form of sweet dessert that is typically baked. In its oldest forms, cakes were modifications of breads but now cover a wide range of preparations that can be simple or elaborate and share features with other desserts such aspastries, meringues, custards and pies.
Typical cake ingredients are flour, sugar, eggs, butter or oil, a liquid, and leavening agents, such as baking soda and orbaking powder. Common additional ingredients and flavourings include dried, candied or fresh fruit, nuts, cocoa, andextracts such as vanilla, with numerous substitutions for the primary ingredients. Cakes can also be filled with fruit preserves or dessert sauces (like pastry cream), iced with buttercream or other icings, and decorated with marzipan, piped borders, or candied fruit.
Cake is often served as a celebratory dish on ceremonial occasions, for example weddings, anniversaries, andbirthdays. There are countless cake recipes; some are bread-like, some rich and elaborate, and many are centuries old. Cake making is no longer a complicated procedure; while at one time considerable labor went into cake making (particularly the whisking of egg foams), baking equipment and directions have been simplified so that even the most amateur cook may bake a cake.
Chocolate is a typically sweet, usually brown, food preparation of Theobroma cacao seeds, roasted and ground, often flavored, as with vanilla. It is made in the form of a liquid, paste, or in a block, or used as a flavoring ingredient in other foods. Cacao has been cultivated by many cultures for at least three millennia in Mesoamerica.
The earliest evidence of use traces to the Mokaya (Mexico and Guatemala), with evidence of chocolate beverages dating back to 1900 BC. In fact, the majority of Mesoamerican people made chocolate beverages, including the Maya andAztecs, who made it into a beverage known as xocolātl Nahuatl, a Nahuatl word meaning "bitter water". The seeds of the cacao tree have an intense bitter taste and must be fermented to develop the flavor.
After fermentation, the beans are dried, cleaned, and roasted. The shell is removed to produce cacao nibs, which are then ground to cocoa mass, pure chocolate in rough form. Because the cocoa mass is usually liquefied before being molded with or without other ingredients, it is called chocolate liquor. The liquor also may be processed into two components: cocoa solids and cocoa butter. Unsweetened baking chocolate (bitter chocolate) contains primarily cocoa solids and cocoa butter in varying proportions. Much of the chocolate consumed today is in the form of sweet chocolate, a combination of cocoa solids, cocoa butter or other fat, and sugar. Milk chocolate is sweet chocolate that additionally contains milk powder or condensed milk. White chocolate contains cocoa butter, sugar, and milk, but no cocoa solids.
Chocolate has become one of the most popular food types and flavors in the world, and a vast number of foodstuffs involving chocolate have been created, particularly desserts including cakes, pudding, mousse, chocolate brownies, and chocolate chip cookies.
Many candies are filled with or coated with sweetened chocolate, and bars of solid chocolate andcandy bars coated in chocolate are eaten as snacks. Gifts of chocolate molded into different shapes (e.g., eggs, hearts) have become traditional on certain Western holidays, such as Easter and Valentine's Day.
Chocolate is also used in cold and hot beverages such as chocolate milk and hot chocolate and in some alcoholic drinks, such as creme de cacao.
Although cocoa originated in the Americas, in the 2000, Western Africa produces almost two-thirds of the world's cocoa, with Ivory Coast growing almost half of it. In the 2000, concerns about the use of child labor and the human trafficking andslavery of child laborers in African cocoa cultivation have been raised.
Bibliografie
1. https://en.wikipedia.org/wiki/Candy
2. https://en.wikipedia.org/wiki/Cake
3. https://en.wikipedia.org/wiki/Chocolate
Preview document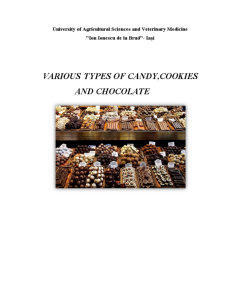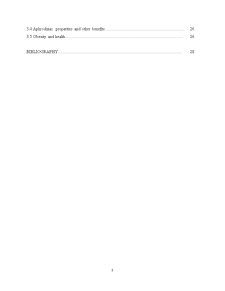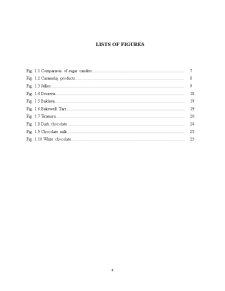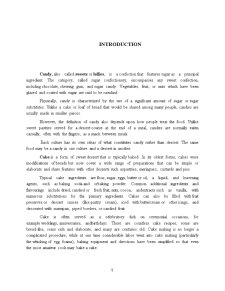 Conținut arhivă zip
Various types of candy, cookies and chocolate.docx
Ai nevoie de altceva?