Conține 1 fișier: doc
Pagini : 13 în total
Cuvinte : 2358
Mărime: 531.89KB (arhivat)
Cost: 4 puncte
Theological Seminary "Sf. Ioan Iacob Hozevitul", Dorohoi Section: Philology bilingual Romanian – English Year of study: IV
Cuprins
Argument
• Introduction
• Western mentality
• Eastern mentality
• Western vs. Eastern
• Final considerations
• Bibliography
Extras din document
Argument
Every nation on Earth has its own characteristics, characteristics which are influenced by the regional mentality (Balkan mentality, Scandinavian mentality, West European mentality). A region and the identity of the people populating this region are defined and explained through geography, common history, stereotypes, habits and some other few criteria.
I choose to analyze in this paper the problem of Eastern Europe mentality, with reference at the Balkan region and making a comparison with the Western Europe mentality. I have choose this topic because, in our daily lives, everywhere we look we face this parallelism with people from France, Spain, England. This image is almost every time the same: people from East are considered inferior to those of West. I have proposed to analyse aspects from daily lives from both sides, attitudes toward money, work, free time and few aspects regarding religion.
• Introduction
Pro-Western orientation became even more pronounced after 1989 when, after the fall of communism, all the countries in Southeastern Europe became engaged in a competition for Europe, with each trying to get rid of the Balkan stigma. The degree of interest towards Western European values varied.
Mercury Research in 2008 for the Agency for Governmental Strategies in Romania shows that the first things that Spaniards spontaneously associate with Balkan region are poverty and misery (21%), delinquency (9%), Roma (5%).
In this paper I will analyse two of the most important mentalities from Europe – the Western and the Eastern one. I will start by presenting each of them, separately, after that I will show some few differences between them and in the final chapter part I will point out a few conclusions and positive aspects for both of the chosen topics.
Bibliografie
• Bakic-Hayden, Milica and Hayden, Robert, Orientalist Variations on the Theme 'Balkans': Symbolic Geography in Recent Yugoslav Cultural Politics, Slavic Review, No. 51, 1992
• Lovinescu, Eugen, Istoria civilizaţiei române moderne (I Forţele revoluţionare; II Forţele reacţionare; III Legile formaţiei civilizaţiei româneşti), ediţie şi studiu introductiv de Z. Ornea, Editura Minerva, Bucureşti, 1997
• Olteanu, Antoaneta, Homo balcanicus – trăsături ale mentalităţii balcanice, Ed. Paideia, Bucureşti, 2004
• Razsa, M. and Lindstrom, N., Balkan is Beautiful: Balkanism in the Political Discourse of Tudman's Croatia, East European Politics and Societies, No. 18, 2004
• Todorova, Maria, Balcanii: de la descoperire la invenție, in "Secolul 20", 7-9/ 1997
• Todorova, Maria, Imagining the Balkans, New York, Oxford University Press, 1997
• http://staff.lib.msu.edu/sowards/balkan/
• http://www.srichinmoylibrary.com/sri-chinmoy-answers-19/what-is-the-main-difference-between-the-western-and-eastern-mentality-could
Preview document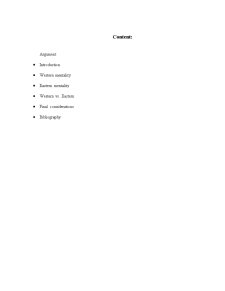 Conținut arhivă zip
Western vs Eastern Mentality.doc
Alții au mai descărcat și
Ai nevoie de altceva?