Conține 2 fișiere: docx
Pagini : 50 în total
Cuvinte : 18436
Mărime: 157.60KB (arhivat)
Cost: 3 puncte
Extras din document
Q1.1: What are the essential elements of forming a valid contract? Explain the importance of each element by providing relevant legal principles derived from decided cases.
Guenter Heinz Treitel in The Law of Contract defines a contract as an agreement giving rise to obligations which are enforced or recognized by law. The factor which distinguishes contractual form from other legal obligations is that they are based on the agreement of the contracting parties.
The essential elements of forming a valid contract are as it follows:
- Offer
An offer:
-Is an expression of readiness to do something which, if followed by the unconditional acceptance of another person.
-Must be distinguished from an "invitation to treat", which merely invites other people to make offers but is not in itself an offer. Case - Harris V. Nickerson (1873)
If the offer is not accepted, it may come to an end in one of several ways such as:
-it may be rejected - Case -Hyde v Wrench (1840)
-it may lapse, either because a time limit which has been put upon the offer has expired, or because there has been too long a delay between the offer being made and a purported acceptance of it; Case - Ramsgate Victoria Hotel v Montefiore (1866)
-it may be 'accepted' subject to conditions, in which case the original offer is cancelled and replaced with a new offer, called a counter- offer, containing the new conditions. Case - Bradbury v Morgan [1862]
-The death or insanity of either party, before an acceptance is communicated, causes an offer to expire. Case - Reynolds v Atherton (1921)
-revocation - Case - Dickinson v Dodds (1876)
- Acceptance
When valid acceptance takes place a binding contract is formed with three main rules relating to acceptance:
-The acceptance must be communicated to the offeree.
-The terms of the acceptance must exactly match the terms of the offer.
-The agreement must be certain.
-The contract can be accepted by the conduct of the parties - Case - Brogden v Metropolitan Railway Company (1876 - 77) L.R. 2
-Silence does not amount to acceptance. Case - Felthouse v Bindley (1862)
- Intention to create legal relations
In order to determine which agreements are legally binding and have an intention to create legal relations, the law draws a distinction between social and domestic agreements and agreements made in a commercial context.
The notion of the 'domestic' agreement should probably be taken as relating more to the subject matter than to the relationship between the parties. The rule is simply based on a presumption, it will always be possible for that presumption to be rebutted. The presumption against a contractual intention will not apply where the spouses are not living together in amity at the time of the agreement.
For example, an arrangement between a husband and wife that agreed in Balfour v Balfour 2 K.B. 571 (1919) case, but here made in the context of the break-up of the marriage, was held to be legally binding. Lord Denning distinguished Balfour v Balfour in the following terms:
"The parties there were living together in amity. In such cases, their domestic arrangements are ordinarily not intended to create legal relations. The presumption against a contractual intention will not apply where the spouses are not living together in amity at the time of the agreement.
- Consideration (benefit given to the other party) - means a detriment to the person who made the promise or a benefit conferred on the other party, both of which are measurable in economic terms. Money, goods and services are the most known examples of consideration.
Case - Pinnel's Case 1602 5 Rep, 117 - Part payment of a debt is not valid consideration for a promise to forebear the balance unless at the promisor's request part payment is made either before the due date, with a chattel or to a different destination
- Capacity (the authority or ability to make contracts) -The parties to an agreement must be competent to contract. Any contracts that are made by persons who are lacking in legal capacity are voidable: that is, the party who needs the protection can seek to avoid the contractual liability - Case De Francesco v Barnum [1890] 45 Ch D 430
- Lawful object - The object of an agreement must be valid. Object has nothing to do with consideration. It means the purpose or design of the contract. Case - Minnesota v. Dickerson, 508 U.S. 366 (1993).
The Object is said to be unlawful if it:
- is forbidden by law;
- is of such nature that if permitted it would defeat the provision of any law;
- is fraudulent;
- involves an injury to the person or property of any other;
- the court regards it as immoral or opposed to public policy.
- Privity of contract - A third party cannot sue or be sued regarding a contract, and only the parties to a contract can rely on the contract terms to take legal action. Case - Beswick v Beswick [1968] AC 58.
- Express or implied terms of a contract -The contracting parties are free to agree on the terms of a contract (unless such terms are illegal). There are three types of terms on a contract: conditions, warranty, and innominate /intermediate terms. Case - Bettini v Gye [1876] 1 QBD 183
- Liquidated damages (compensation) - are a genuine pre-estimation of the loss or damage that would result if a certain event were to happen during the performance of the contract.
Bibliografie
1)Allen & Overy (2010) - Basic Principles of English Contract Law , Advocates for International Development, www.a4id.com
2)Brendan Pentony, Stephen Graw, Jann Lennard and David Parker (2008) Understanding Business Law , LexisNexis Butterworth, Third Ed.
3)DiMatteo, Larry A. (2008) - Contract Theory: The Evolution of Contractual Intent. East Lansing: Michigan State Univ. Press.
4)Elliot Catherine &Frances Quinn (2009)- Contract Law - Seventh Ed- BTEC Level 5 HND in Business, Pearson Custom Publishing.
5)Elliot Catherine &Frances Quinn - (1996, 2009) Tort Law - Seventh Ed- BTEC Level 5 HND in Business , Pearson Custom Publishing.
6)Ewan Mckendrick - Contract Law (2011) - 9th Ed, ISBN: 9780230285699, Palgrave Macmillan.
7)Gabriel Moens and Peter Gillies (2006) International Trade: Law, Business and Ethics, Routledge-Cavendish, Oxford Second Ed.
8)Hare, J. I. Clark (2003) The Law of Contracts. Clark, N.J. Lawbook Exchange.
9)Keith Owens, Law for Non (2001) - Law Students, Third Ed, Cavendish Publishing Ltd,
10)Lazar Sarna &bookboon.com (2012) - Law for the business student, ISBN 978-87-403-0070-3.
11)Lawson, Richard, LLM Phd (2003) - Exclusion Clause, Oyez Longman Publishing Limited.
12)Lawson, Richard and Susan Singleton (2011) - Commercial Contracts, A Practical Guide to Standard Terms, Third Ed, Bloomsbury Professional Law , ISBN 9780-1-8-4766- 867-7.
13)Livermore, John (2006) - Exemption Clause and Implied Obligations in Contracts The Law book Company Limited.
14)Matome M. Ratiba & Bookboon.com (2013) ISBN 978-87-403-0500-5, Conveyancing Law for Paralegals and Law Students - 1st Edition.
15)Moens, Gabriel and Peter Gillies (2006)- International Trade : Law, Business and Ethics Routledge - Cavendish, Oxford, Second Edition.
16)Pentony, Brendan, Stephen Graw, Jann Lennard and David Parker (2008) Understanding Business Law , Lexis Nexis Butterworth, Third Edition.
17)Paul Richards (2007) - Law of Contract, Eighth Edition, Pearson Longman
18)Solomon E. Salako & bookboon.com., (2010) - Evidence, Proof and Justice: Legal Philosophy and the Provable in English Courts, First Ed, ISBN 978-97-7681-685-8
19)William R, Buckley and Cathy J. Okrent, (2004) - Torts & Personal Injury Law, Third Ed., Thomson Delmar Learning
20)IT consumer contracts made at a distance - Guidance on compliance with the Distance Selling and Unfair Terms in Consumer Contracts Regulations , December 2005
Preview document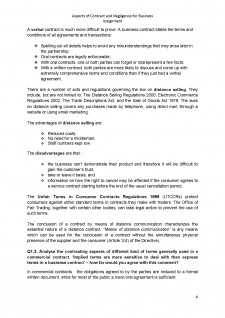 Conținut arhivă zip
Business law - Aspects of contract.docx
Financial AccDiana Barbu.docx
Alții au mai descărcat și
Ai nevoie de altceva?