Conține 1 fișier: docx
Pagini : 4 în total
Cuvinte : 1745
Mărime: 16.62KB (arhivat)
Cost: 4 puncte
Extras din document
Well, I am pretty sure that there are many guys, specialists in economy, environment, maybe religion or horoscopes, that tried to predict the future, or at least create a realistic image about how Romania is going to look in a couple of years, or, in our case, in three years. There are many ways in wich you can try to make this kind of predictions-statistically,scientifically, or just based on your imagination. The first types, are, of course, far more objective, based on the close reality, while the one based only on your imagination is subjective and very likely not to ever happen in reality. That's what I am going to do next, a simple imagination exercise, based on my knowledges and expectations, but balanced, without any exaggerations.
First of all, I feel the need to say that even from an early age, we are taught not to take too much position about happens around us, but try to maintaine the harmony around us, even though we don't feel that way. Probably that's why, I have the tendency right now, not to express some believes deep inside me.
If I think about it though, it looks a little bit improbable that the situation in Romania to change very much. I don't want to look pessimistic, or to adopt the position of every ignorant that says that there is no bright future for Romania ever. Personally, I believe in this country, in the people that forms it, I believe in us and I strongly believe Romania is going to reach high standards sometimes.
It is very hard, despite what I believe, that Romania will grow considerably, in the next three years. Actually, if I look around me, all I see is riots, protests, an environment full of anarchic movements and feelings. Looks like somebody joked around with people's lives, and now, the people are not going to forget or forgive. Something must be changed, but it also looks like the international system is also under crisis and unlikely to give us a hand, and now, after so many destruction, I don't see how today's politicians are going to solve all those things.
Second of all, it is easy to observe how the idea that we, Romanians are just a bunch of losers, and there is nothing we can do to change that it's very common these days, in all rows of the society, and it is implemented in our heads since we are kids, mass-media helping with that.
That's one of the reasons why I don't really think there are going to change to many things in Romania, maybe we became too accustomed with everything around us, that we don't even realize all the injustice that we are going through.
It looks more and more clear that, three years are not even by close enough for the situation to change in Romania. All I fear is for Romania to suffer a decline even bigger than the one we are going through these days. Actually, everything really depends on how the actual events are going to turn, I think this is one of the most important indicators in trying to predict how Romania is going to look in three years.
It is very rare though to see precise predictions about the future of an entire society or country, due to the complexity of the factors that influence the development of these. When this happen, is, for sure, the proof of a brilliant mind.
We can see that, in George Orwell's case, by reading his book- "1984". He actually managed to imagine in 1948 how the most part of the world is going to look 36 years later, when, the entire Soviet Union, Eastern Europe. parts of the South America were communist. It is shocking the way he realized how these societies are going to look, and how the leaders of these regimes will try to capture the entire society, to control it. He even talked about the cult of personality, the control over mass-media and other practices used in the totalitarian regimes almost 40 years later, like the commies would have read the book, and inspired from it.
This political roman, had the role of being a signal for those in our society, a lot of ideas and terms having their origins in George Orwell's book, terms like the Big Brother, the double-thinking, the police of the thoughts, or the adjective Orwellian, that is used to describe repressive actions, like those of Oceania in the book.
Preview document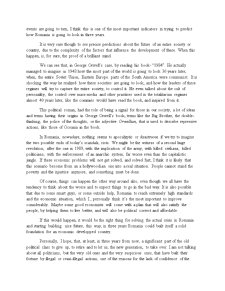 Conținut arhivă zip
How do i See Romania in Three Years.docx
Alții au mai descărcat și
Te-ar putea interesa și
Ai nevoie de altceva?