Conține 1 fișier: doc
Pagini : 4 în total
Cuvinte : 1015
Mărime: 14.38KB (arhivat)
Cost: 1 puncte
Extras din document
The Romanian Carpathians are included into the Alpino-Carpato-Hymalaian chain. They begin in the north of Bratislava and are ended on Timok Valley. The Carpathians includes also the Romanian Carpathians. They are formed from three independent groups: the Oriental Carpathians (the highest peak is Pietrosu Rodnei – 2,303m); the Meridional Carpathians (the highest peak is Moldoveanu – 2,544 m) and the Occidental Carpathians (the highest peak is Cucurbata Mare – 1,849m).
Almost all the mountainous massifs included in these three groups offer the best conditions for the active tourism : pedestrian randonee, alpinism and climbing, parachoutting, canyoning, alpine ski and ski fond, mountainbike.
Among the most important and interesting massifs are: Rodna Mountains (Pietrosu, 2,303 m), Caliman (Pietrosu, 2,100 m), Ceahlau (Ocolasu Mare, 1,907 m), Harghita (Harghita, 1,800 m), Ciucas (Ciucas, 1,964 m) in the Oriental Carpathians; Bucegi (Omu, 2,505 m), Piatra Craiului (La Om, 2,238 m), Fagaras (Moldoveanu, 2,544 m), Parang (Parangu Mare, 2,519 m), Retezat (Peleaga, 2,509 m) in the Meridional Carpathians; Bihor (Curcubata Mare, 1,849 m), Vladeasa (Vladeasa, 1,834 m), Trascau (Poienita, 1,437 m) in the Occidental Carpathians.
Usefull advices
It is higly recommanded to contact the janitor of the chalet or someone from the Mountain-rescuers, prior to begin a route.
The tourism signes in the mountainous area are separated in four categories (triangle, circle or point, ribbon and cross) and in three colours (red, yellow and blue). To be recognized, all the tourism signes have an white outline.
Try to avoid the routes without signes. If you chose such a route is better to be accompanied by someone who knows the area.
The daily duration of the trips varies from two to eight-ten hours, according to the difficulty degree of the massif and the area. The difficulty degree of these routes are also different, and it is advisable to have the newest info on the routes. Among the most dangerous and hard routes are considered those from Rodna, Bucegi, Piatra Craiului, Parang, Retezat. The routes in Ceahlau, Ciucas, Harghita, Trascau or Bihor Vladeasa are easier, but among them can be found some difficult routes.
Preview document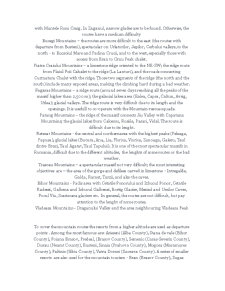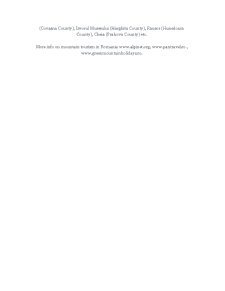 Conținut arhivă zip
Trips in the Carpathians in Transylvania.doc
Alții au mai descărcat și
Ai nevoie de altceva?