Conține 1 fișier: docx
Pagini : 4 în total
Cuvinte : 1108
Mărime: 25.29KB (arhivat)
Cost: 3 puncte
Extras din document
In an excerpt from her book Lois Banner states that: "In real life, Marilyn usually chose tall, dark, and powerful men as partners-- all father figures. But in her films from Gentlemen Prefer Blondes on, she was often cast against small, unprepossessing men, whose confidence she shores up by praising their gentleness as central to real masculinity. Such redemptive women were everywhere in 1950s films, according to Brandon French in her classic study of women in 1950s films." (Banner) As Banner informs, there is a discrepancy between the type of man Marilyn's characters were assigned and her real-life choices. For example, in the movie called 'Misfits', Marilyn is portraying an image of a helpless woman with her head in the skies, and which is surrounded by different typologies of men.
"Sometimes Marilyn spiced the characters as she played with the open sexuality of Jean Harlow, who electrified the nation in 1929 by wearing no underwear, flaunting her body, and bleaching her hair white blonde, a color that indicated perverse desire." (Banner)
Monroe plays the role of Roslyn Taber who is an ex-stripper that has problems with a divorce, and who eventually ends up in Reno, Nevada alongside with other four equally lost and 'sad-sacks' that are at the end of their ropes: an aging cowboy named Gay Langland who is charmed by Roslyn deeply, former World War II flying ace Guido Racanelli, a has-been rodeo rider and last but not least a lonely divorcee, who seems Roslyn's only friend.
"'The Misfits' comes out at the tail-end of the classic Hollywood era (1961). The photographers who drifted on and off the set showed off Monroe, Clift, Gable in all their un-Glamour, in a starkly honest look that would have been unthinkable in the studios' heyday. Everyone has the hang-dog look of tiredness. The players are all made to look bloated or grotesque or basically dead. The editing is odd and erratic, but these glitches actually contribute to its depth." (Valladares)
Bibliografie
Banner, Lois. Marilyn: The Passion and the Paradox. July 17, 2012.
Brady, Tara. The Misfits review: when art and life collide. 17 June 2015. Article. 11 January 2020. <https://www.irishtimes.com/culture/film/the-misfits-review-when-art-and-life-collide-1.2251619>.
Editors, Biography.com. Marilyn Monroe Biography. 8 December 2017. A&E Television Networks. Article. 11 January 2020. <https://www.biography.com/actor/marilyn-monroe>.
Monroe, Marilyn. Interview. n.d.
Robey, Tim. The Misfits review: 'a beautiful accident'. 11 June 2015. Article. 11 January 2020. <https://www.telegraph.co.uk/film/the-misfits/review/>.
Valladares, Carlos. 'The Misfits,' Marilyn Monroe's final film, is bleak perfection. 18 January 2018. Article. 11 January 2020. <https://www.stanforddaily.com/2018/01/18/the-misfits-review/>.
Preview document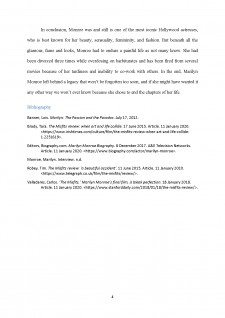 Conținut arhivă zip
A glance into the many sides of Marilyn Monroe's Life.docx
Ai nevoie de altceva?